(Giant's Causeway – Istikbal, by Kingmambo)
Multiple Graded Stakes runner Niagara Falls has been relocated to Oak Creek Farm in Valley Center. The son of European Horse of the Year and 3 times leading North American Sire, Giant's Causeway, will stand for a fee of $2,000.
View Stallion Directory pages here.
Out of the Kingmambo mare Istikbal, Niagara Falls hails from the strong female family of Best in Show that has produced such greats as Aldebaran, Good Journey, Spinning World and Better Than Honour. 
Niagara Falls has been genetically tested to have a Genetic Stallion Marker (GSM) of 90. His sire, Giant's Causeway, had a GSM of 94. (ThoroughGen LCC)  Niagara Falls shares a genotype with a high percentage of stallions that on average produced between 8-10% stakes winners.
Niagara Falls entered stud in 2016. His impressive first crops, yearlings and weanlings of 2018, are available for viewing at Oak Creek Farm.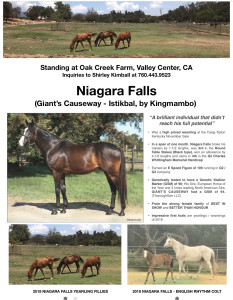 ** Page under under construction.  Please come back **