Oak Creek Farm / SK Racing Stable
A Peaceful & Tranquil Farm: Perfect For Rehabilitation Or Just Growing Up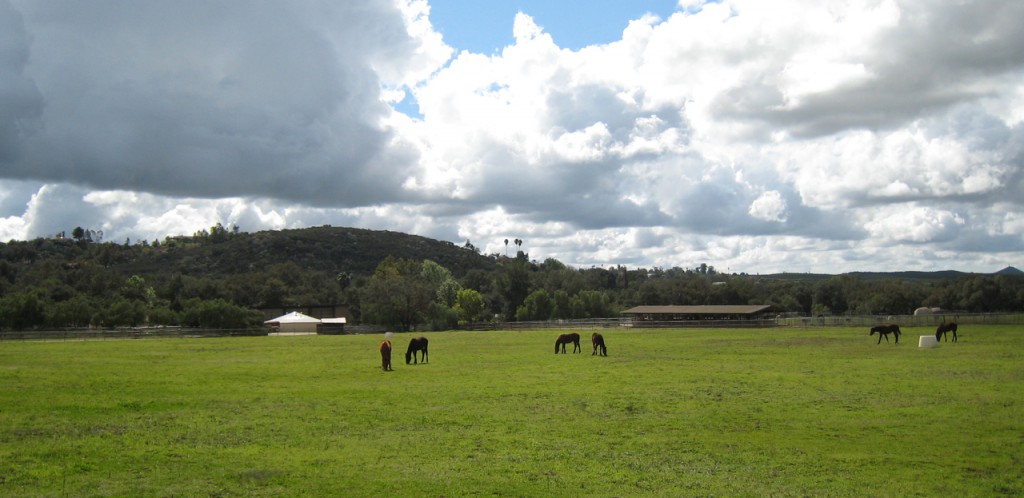 (Reprint California Thoroughbred Farm Tour, October 2012)
Nestled in the rural community of Valley Center and within stallion rich San Diego County is Oak Creek Farm.  The acquisition of this beautiful 35-acre facility has enabled SK Racing Stable to consolidate its breeding and nursery/lay-up programs into one location and to expand its ability to offer outside services.
A more peaceful farm would be difficult to locate. Creeks, waterfalls, bridges, gardens and birds abound the property while mature oak trees provide natural shade. Horses are content here and thrive in the tranquil setting.
The farm boasts a rich history originating as Jackson's Arabian Nursery in the late 1960s. In 1985, the property was sold and renovated, becoming the distinguished breeding and racing operation of Valley Creek Farm.
Famous residents of the farm have included Lady's Secret, the 1986 Eclipse Horse of the Year and 1992 Hall of Fame inductee, and Snow Chief, the 1986 Preakness Stakes winner and Eclipse Champion Three-Year-Old Colt, as well as the California Horse of Year from 1985 to 1987. Lady's Secret, who lived out her years on the property, has a beautiful Memorial Garden in her honor.
Oak Creek Farm / SK Racing Stable is excited about restoring and preserving the tradition and history of its predecessors while attaining excellence itself. Being a semi-private farm and as a thoroughbred breeder and owner herself, farm owner Shirley Kimball knows the importance of running a cost-effective, efficient farm while not jeopardizing the welfare of the horse.
An avid horse lover since childhood, Shirley has spent years trail riding, playing polo, riding hunters and cross-country. She graduated from the University of California, Davis with a BS degree in Zoology. She left her position as Senior Program Manager at Qualcomm Inc. to pursue her passion of raising thoroughbred racehorses. Combining her extensive business knowledge with her horse expertise, she is uniquely able to provide clients with quality care while watching their dollars. She enjoys being part of the day-to-day operation of the farm. Owning and operating Oak Creek Farm / SK Racing Stable is a dream come true.
It isn't just the beautiful location and quality care that makes Oak Creek Farm / SK Racing Stable so ideal, it's also the expert staff. Onsite farm manager Eduardo Serrato boasts over 15 years of farm and racetrack experience.  His expertise is in the handling of young and/or difficult horses.
One of the farm's niches is accommodating horses who don't fit into the larger operations.  In addition to the individualized care the horses receive, it is the staff's understanding of horses and the ability to allow them to be themselves, that sets Oak Creek Farm / SK Racing Stable apart.
Specializing in mare/foal care, the farm has plentiful pastures dedicated to broodmares, foals, weanlings and yearlings. There is a training/sales preparation area where initial ground work is done with yearlings. It is complete with a barn, a Eurociser and simulated gate and trailer training structures.
Another one of the farm's strength is its rehabilitation and lay-up program. The farm has various sized stalls, pens and paddocks to accommodate all phases of lay-ups, and has been very successful in nursing horses back to health from severe tendon bows, fractures and colic surgery.
As a foster facility, many retired racehorses have called Oak Creek Farm / SK Racing Stable home while transitioning both physically and mentally from race track life. Events such as barn decorating and open houses have been hosted on the farm where people of all ages can visit a horse farm and touch a racehorse.
Four stallions will be standing a tOak Creek Farm / SK Racing Stable for the 2016 breeding season:  Street Hero (Street Life (Ire) – Squall Linda, by Summer Squall),  Tale of the Hills (Tale of the Cat—Out of the Hills, by Capote), Royal Memory (Royal Academy—Memorable Moment, by Secretariat) and Bandido de Amor (Event of the Year—Saros Luck, by Saros (GB)). These four stallions have the distinction of being the only sons of their sires at stud in California.
You are invited to make Oak Creek Farm / SK Racing Stable  home to your mare while she is visiting the many great stallions located in Southern California, or have her be a year-round resident allowing her foals to grow up and thrive on the farm prior to starting their careers as racehorses.
So, when in the area, come for a visit. Walk the grounds, visit the peaceful and serene Lady's Secret Memorial Garden, check out the stallions, the mares and foals and yearlings.